VA - Now That's What I Call Music! 1-108 (2CD) (1983-2021) (Inclusive) [FLAC] [DJ]
Seeders : 1
Leechers : 97
Description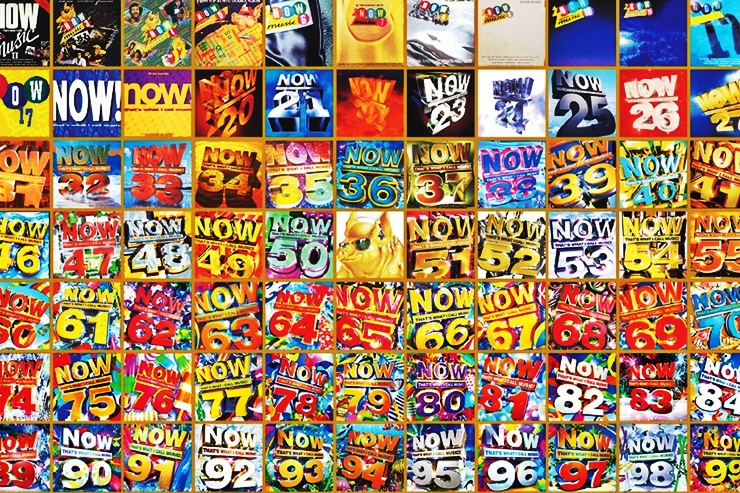 Artist: Various Artists
Title: Now That's What I Call Music! 1 - 108
Year Of Release: 1983 - 2021
Label: Sony Music, Universal Music, Now That's What I Call Music
Genre: Electronic, Rock, Funk / Soul, Europop, Pop
Quality: FLAC (tracks,scans)
Total Size: 107.80 GB
Average Bitrate: 846 kbps
Source: CD (Apart from Now 09)

The complete Now That's What I Call Music! collection up to 2021 Every big UK Top 40 hit from the last 38 years!

Now 10 was the first Now double cd released in 1987, all the others were either cassette tapes or double vinyl, with the exception of Now 08 & 09 which are rare and sought after limited edition single cds.

All tracks have been ripped from cd except Now 09 which is an mp3 vinyl rip as they haven't released it on cd yet. should be early next year.

They have started releasing the early Now's on cd again for the first time. Now 01 - 07 are new cd releases. With reissues of Now 8 and 9 expected early-mid 2021. Those will be uploaded as soon as they become available completing this collection.

This upload is an updated version of my Now 01-107. It now includes Now 08 (Never released before as a double cd) and the newly released Now 108. I have also removed the wrong cd2 from Now 68 and replaced it with the correct cd.

Only one more to go (Now 9 double cd) which should be uploaded around July 2021.

The Complete Now That's What I Call Music Collection from Now 1 (1983) to Now 108 (2021) In Lossless, FLAC.

Enjoy!





Now That's What I Call Music! 01 [1983] [2018]
Now That's What I Call Music! 02 [1984] [2019]
Now That's What I Call Music! 03 [1984] [2019]
Now That's What I Call Music! 04 [1984] [2019]
Now That's What I Call Music! 05 (1995) [2020]
Now That's What I Call Music! 06 (1985) [2020]
Now That's What I Call Music! 07 [1986] [2020]
Now That's What I Call Music! 08 [1986] [2021]
Now That's What I Call Music! 09 [1987} (MP3 320kbps) 2-LP
Now That's What I Call Music! 09 [1987] 1 CD - Rare
Now That's What I Call Music! 10 [1987]
Now That's What I Call Music! 11 [1988]
Now That's What I Call Music! 12 [1988]
Now That's What I Call Music! 13 [1988]
Now That's What I Call Music! 14 [1989]
Now That's What I Call Music! 15 [1989]
Now That's What I Call Music! 16 [1989]
Now That's What I Call Music! 17 [1990]
Now That's What I Call Music! 18 [1990]
Now That's What I Call Music! 19 [1991]
Now That's What I Call Music! 20 [1991]
Now That's What I Call Music! 21 [1992]
Now That's What I Call Music! 22 [1992]
Now That's What I Call Music! 23 [1992]
Now That's What I Call Music! 24 1993]
Now That's What I Call Music! 25 [1993]
Now That's What I Call Music! 26 [1993]
Now That's What I Call Music! 27 [1994]
Now That's What I Call Music! 28 [1994]
Now That's What I Call Music! 29 [1994]
Now That's What I Call Music! 30 [1995]
Now That's What I Call Music! 31 [1995]
Now That's What I Call Music! 32 [1995]
Now That's What I Call Music! 33 [1996]
Now That's What I Call Music! 34 [1996]
Now That's What I Call Music! 35 [1996]
Now That's What I Call Music! 36 [1997]
Now That's What I Call Music! 37 [1997]
Now That's What I Call Music! 38 [1997]
Now That's What I Call Music! 39 [1998]
Now That's What I Call Music! 40 [1998]
Now That's What I Call Music! 41 [1998]
Now That's What I Call Music! 42 [1999]
Now That's What I Call Music! 43 [1999]
Now That's What I Call Music! 44 [1999]
Now That's What I Call Music! 45 [2000]
Now That's What I Call Music! 46 [2000]
Now That's What I Call Music! 47 [2000]
Now That's What I Call Music! 48 [2001]
Now That's What I Call Music! 49 [2001]
Now That's What I Call Music! 50 [2001]
Now That's What I Call Music! 51 [2002]
Now That's What I Call Music! 52 [2002]
Now That's What I Call Music! 53 [2002]
Now That's What I Call Music! 54 [2003]
Now That's What I Call Music! 55 [2003]
Now That's What I Call Music! 56 [2003]
Now That's What I Call Music! 57 [2004]
Now That's What I Call Music! 58 [2004]
Now That's What I Call Music! 59 [2004]
Now That's What I Call Music! 60 [2005]
Now That's What I Call Music! 61 [2005]
Now That's What I Call Music! 62 [2005]
Now That's What I Call Music! 63 [2006]
Now That's What I Call Music! 64 [2006]
Now That's What I Call Music! 65 [2006]
Now That's What I Call Music! 66 [2007]
Now That's What I Call Music! 67 [2007]
Now That's What I Call Music! 68 (2007)
Now That's What I Call Music! 69 [2008]
Now That's What I Call Music! 70 [2008]
Now That's What I Call Music! 71 [2008]
Now That's What I Call Music! 72 [2009]
Now That's What I Call Music! 73 [2009]
Now That's What I Call Music! 74 [2009]
Now That's What I Call Music! 75 [2010]
Now That's What I Call Music! 76 [2010]
Now That's What I Call Music! 77 [2010]
Now That's What I Call Music! 78 [2011]
Now That's What I Call Music! 79 [2011]
Now That's What I Call Music! 80 [2011]
Now That's What I Call Music! 81 [2012]
Now That's What I Call Music! 82 [2012]
Now That's What I Call Music! 83 [2012]
Now That's What I Call Music! 84 [2013]
Now That's What I Call Music! 85 [2013]
Now That's What I Call Music! 86 [2013]
Now That's What I Call Music! 87 [2014]
Now That's What I Call Music! 88 [2014]
Now That's What I Call Music! 89 [2014]
Now That's What I Call Music! 90 [2015]
Now That's What I Call Music! 91 [2015]
Now That's What I Call Music! 92 [2015]
Now That's What I Call Music! 93 [2016]
Now That's What I Call Music! 94 [2016]
Now That's What I Call Music! 95 [2016]
Now That's What I Call Music! 96 [2017]
Now That's What I Call Music! 97 [2017]
Now That's What I Call Music! 98 [2017]
Now That's What I Call Music! 99 [2018]
Now That's What I Call Music! 100 [2018]
Now That's What I Call Music! 101 [2018]
Now That's What I Call Music! 102 [2019]
Now That's What I Call Music! 103 [2019]
Now That's What I Call Music! 104 [2019]
Now That's What I Call Music! 105 [2020]
Now That's What I Call Music! 106 [2020]
Now That's What I Call Music! 107 [2020]
Now That's What I Call Music! 108 [2021]


Trackers List
Tracker Name
udp://tracker.tiny-vps.com:6969/announce
udp://fasttracker.foreverpirates.co:6969/announce
udp://tracker.opentrackr.org:1337/announce
udp://explodie.org:6969/announce
udp://open.stealth.si:80/announce
udp://tracker.cyberia.is:6969/announce
udp://ipv4.tracker.harry.lu:80/announce
udp://tracker.uw0.xyz:6969/announce
udp://tracker.dler.org:6969/announce
udp://9.rarbg.to:2710/announce
udp://fe.dealclub.de:6969/announce
udp://tracker.altrosky.nl:6969/announce
udp://code2chicken.nl:6969/announce
udp://tracker.zerobytes.xyz:1337/announce
udp://retracker.hotplug.ru:2710/announce
Torrent File Content